Place Your First SpeedySep Order FAST!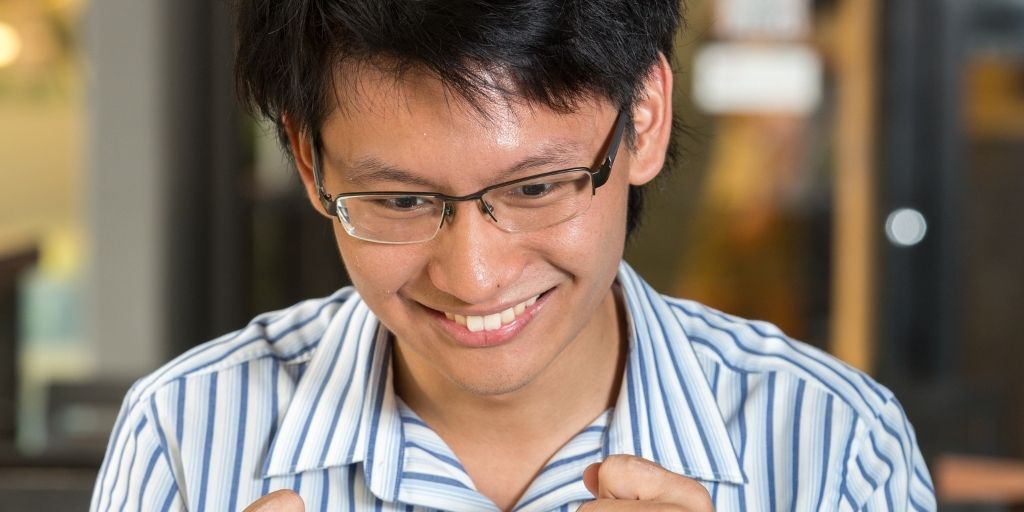 New to SpeedySep™? Place an Easy Online Design Order
Busy screen printers can get overwhelmed with deadlines, staffing issues, equipment downtime, and supplier backorders. Let SpeedySep™ be your hassle-free solution for design work.
You have probably noticed that some designers on the internet do not have an online ordering system. There may be links that say, "Speak to a human now" or "Click here to request a quote".
These designers may do great work, but the pricing is mysterious. Even worse, they expect you to waste your valuable time explaining your design over the phone.
Even if they have an online ordering system, some designers are stuck with a third-party system that can't be customized. The result: You have to sift through questions and pages that are not relevant to your project.
Don't struggle with complicated design ordering or the nightmare of following up to be sure your design is completed on time. We will give you quick turnaround and work with your deadlines, so even your first order is fast!
How it Works
At SpeedySep, we created our own online system for easy design ordering. Its user-friendliness is based on our deep respect for your time and your deadlines. In five simple steps, you can submit your order using our automated solution.
Even better, you can communicate directly with your screen print designer online and track the status of your order. We will help ensure that you meet your deadlines.
Placing your first order is so easy there is no reason to put it off! Here's an overview of the process:
Set up your account quickly
Enter the details for your design needs
One click to check out – because the first order is free!
You may be thinking, "Are you sure it's that easy? Look me in the eye and say it again!"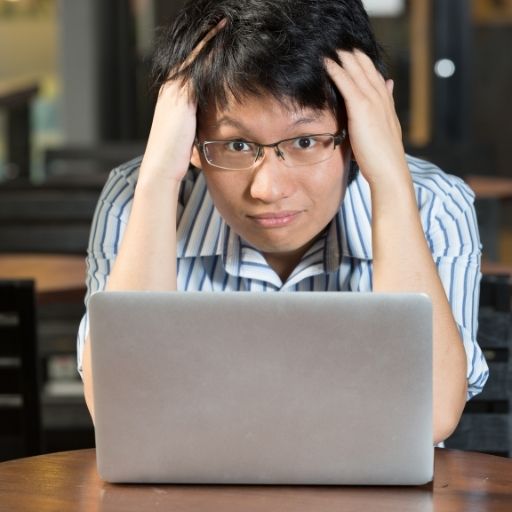 Yes, it is that easy to order a design from SpeedySep.com!
Even if you hit a snag, it is still an easy process. Just look for our live-chat link in the bottom right corner of every page on our site.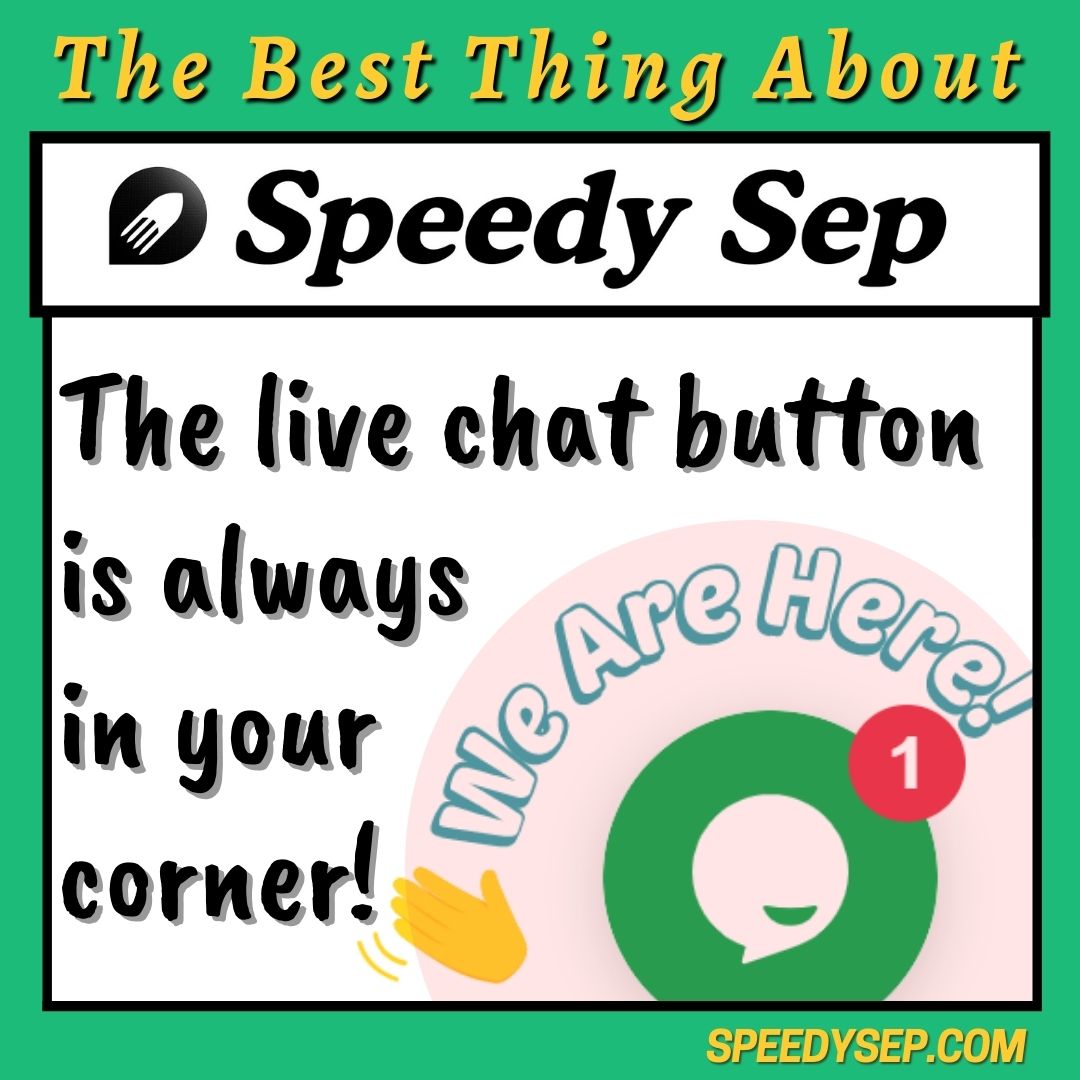 Step 1: Create an Account
When you set up an online account with SpeedySep, we don't need your mother's maiden name or the social security number of your first-born. Let's look at what we mean when we promise you that the first order is easy.
Click the Try It Free button on the SpeedySep.com home page, and you are asked to enter your email address. After you enter the password you want to use and type in your name, you are finished entering information.
The next screen shows a popup that gives details about your free first order. When you close the popup you will see your SpeedySep Customer Dashboard.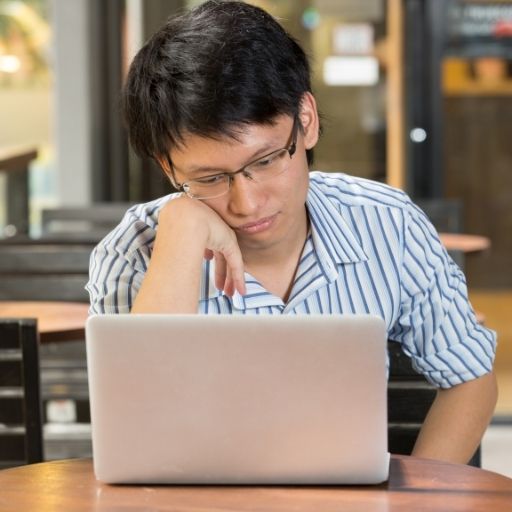 You will need to click the "Confirm Email" button in the middle of the screen and check your email. Don't forget to check the spam folder if you do not see it in your inbox.
Follow the instructions in the email you receive to finish creating your account. That's it – you're in!
Step 2: Enter Your Order Details
This is the beauty part. Easy design ordering was a top priority in the development of our online service. Compared to some of our competitors, SpeedySep.com is simple and it cuts to the chase.
We have a series of questions to narrow down the details of your order with just a few clicks. Tell us what you need.
Hiring a screen print designer online through SpeedySep means you will have a designer assigned to you and dedicated to your design. We only use our in-house team of artists so we can provide you with maximum control of your project.
Following is a discussion of the handful of questions you must answer for a vectorization design order.
Complexity
Choose the difficulty of your design. Simple as 1-2-3!
❐ Easy usually means a one-color design.
❐ Medium usually means a full-color design, with straightforward shapes and colors.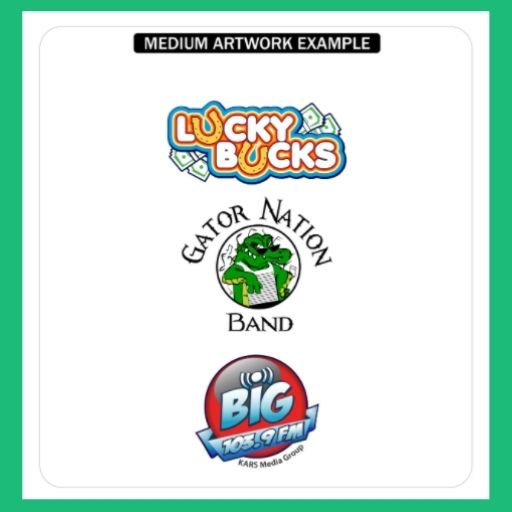 ❐ Complex usually means full-color with a lot of delicate detail.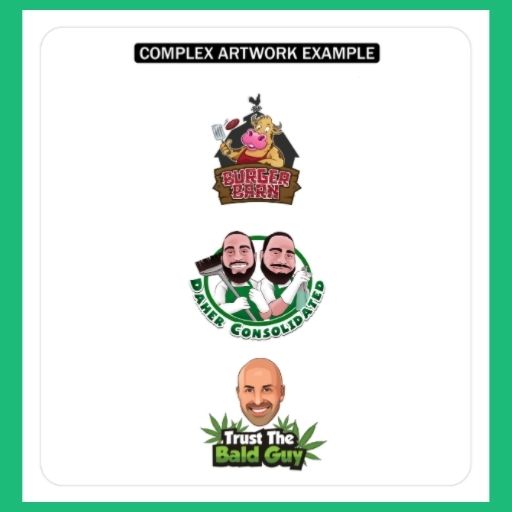 If you are not sure just take your best guess. If we think it should be adjusted, we will contact you to discuss it. Of course, once you place your order and an artist is assigned, you can contact the designer directly to discuss your design.
Reuse a Previous Order
If you are new to SpeedySep.com, you don't have a previous order. Skip this question.
Set Your Design Dimensions
The dimensions refer to the actual size the design should be, depending on the size of the item you will be screen printing. We give you the most popular choices – infant, kids, adult, oversize, left chest, and sleeve.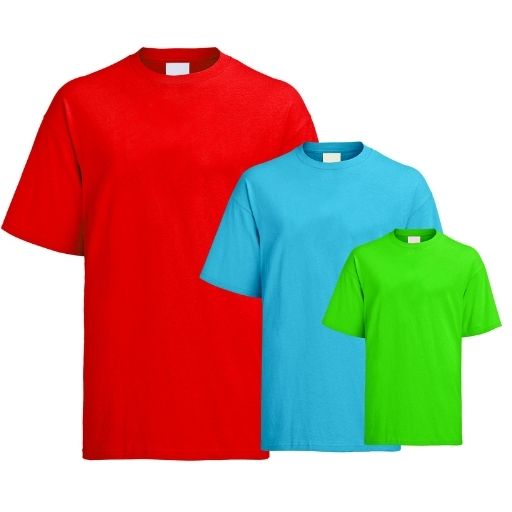 To check the dimensions associated with each size, hover over the view size chart button to see the popup.
If you don't see the size you need (for example, a large landscape design for use on a duffle bag) choose the closest size. You can clarify and describe the actual dimensions you need in the Additional Project Files section described below.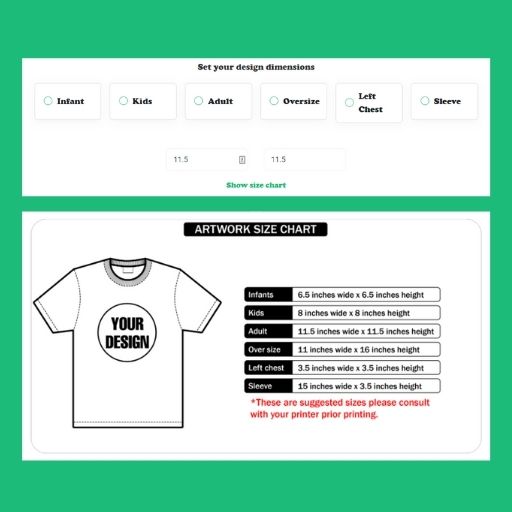 How Many Colors in Your Design?
Choose from one to sixteen colors. Set the slider and go!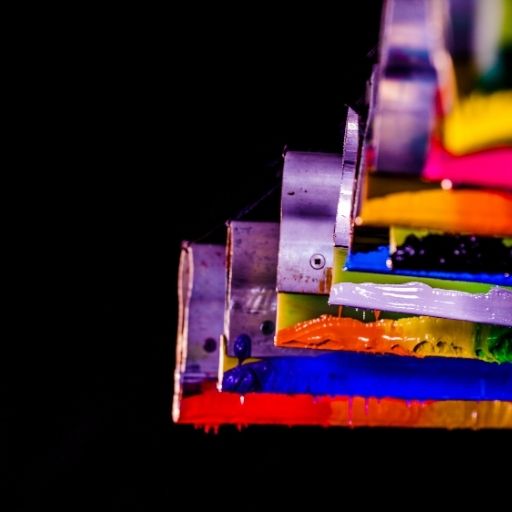 Additional Project Files
This is the last of the order specifications. You can upload images and other files that will help us to perfect your order.
If you have a design you want us to improve on, send it to us. If you only have a photo of a sketch on a napkin, send it to us. We are easy to get along with!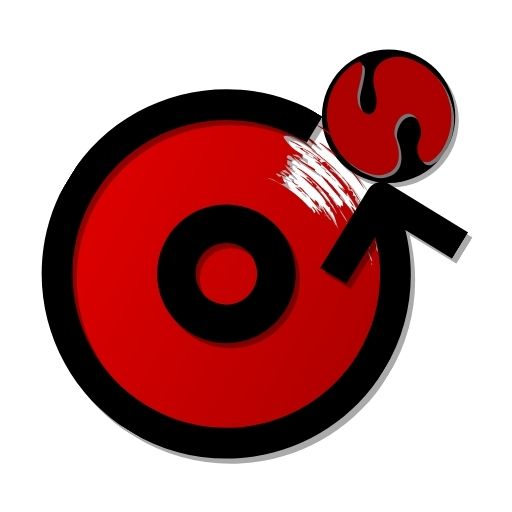 The files you upload may include images of products you plan to print with this design so we can see exactly where it will be placed. You might also send us text files with additional information you want us to have.
More is better than less, but you can contact the designer directly at any time.
Step 3: Add Special Services
Most of our special services are premium services. This means that there is an additional charge unless you have a monthly membership that covers the premium service you want.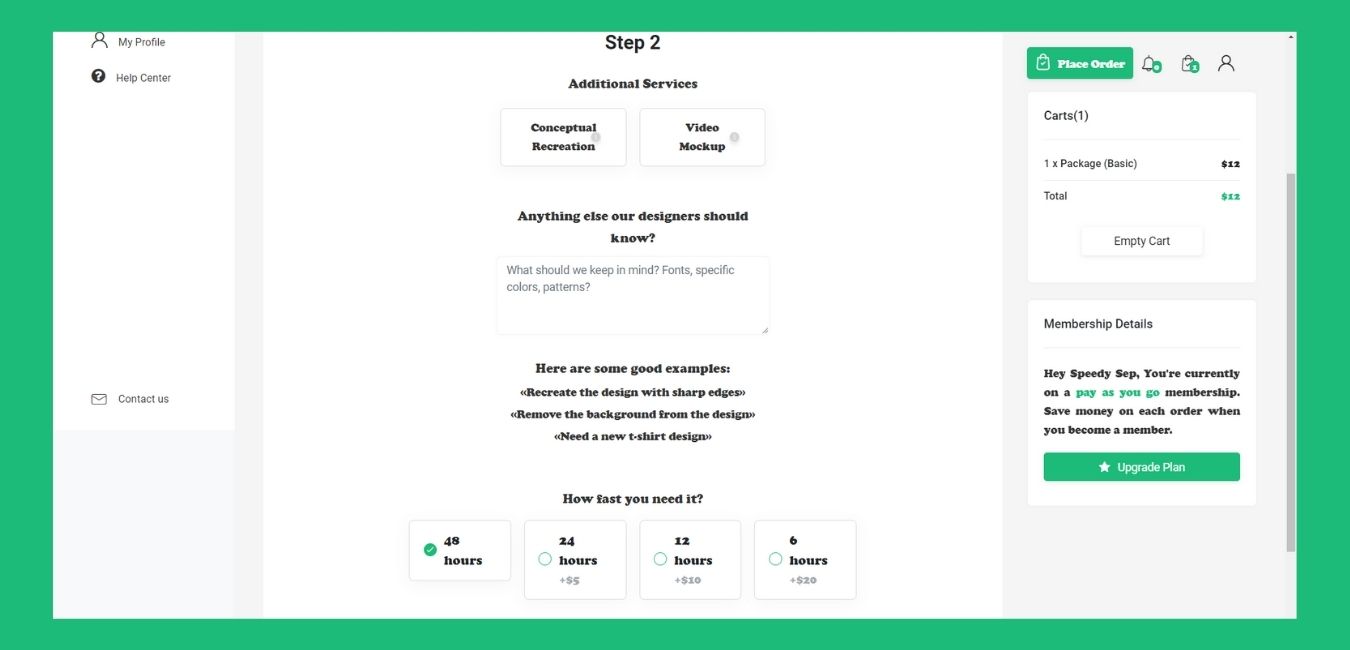 On this page, you can choose an expedited completion deadline. Standard orders are guaranteed within 48 hours and there is a nominal fee to reduce the turnaround time.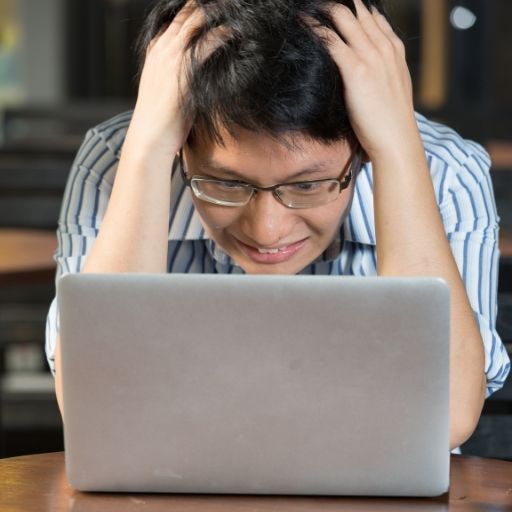 Step 4: Choose a Membership Plan or a One-Time Order
Your first order is free if you select the default to receive your design within 48 hours. That might seem to be good enough for your first order.
However, from the get-go, you can start saving money with a membership plan. Not only do you get discounted rates on all of your orders, but you are also upgraded – free – to shorter turnaround times and other great benefits.
As a member, your busy print shop can take advantage of these perks. And, of course, it is easy to order designs on SpeedySep.com.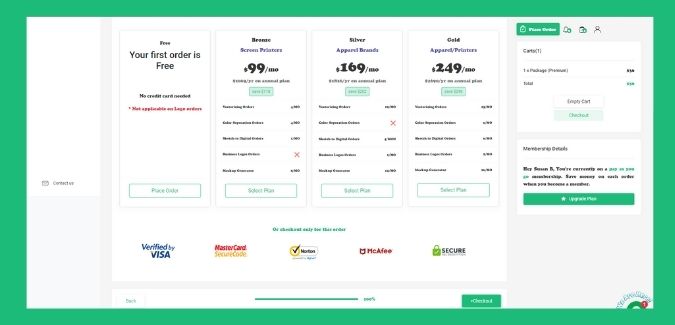 We have a 7-day money-back guarantee on monthly plans. If you sign up, place some orders, and decide to cancel the membership within seven days, you will receive a full refund. After seven days your refund would be prorated.
Step 5: Don't Pay at Check Out
Unless you have chosen items in the Additional Services section or a monthly membership, the only thing left for you to do is click the Checkout button.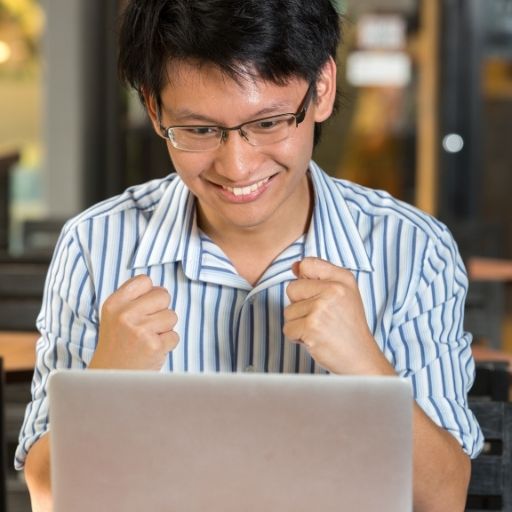 That was so easy, you should probably order the rest of the designs you need!
The Upshot
So easy, so free – it is "…an offer you can't refuse."

- Francis Ford Coppola's The Godfather
Your first order is fast using our easy online design order system. We are committed to your deadlines.
Please remember: If you are unsatisfied with your design, we will revise it, revise it again, and revise it again…until you are completely enraptured. There is literally no downside to placing an order because you have nothing to lose.
Do you have 20 minutes? Set up your account and place your first order now. No credit card required!
Thank you for checking out our blog! Please let me know if I can do anything to help.
Dan from the Speedy Sep Team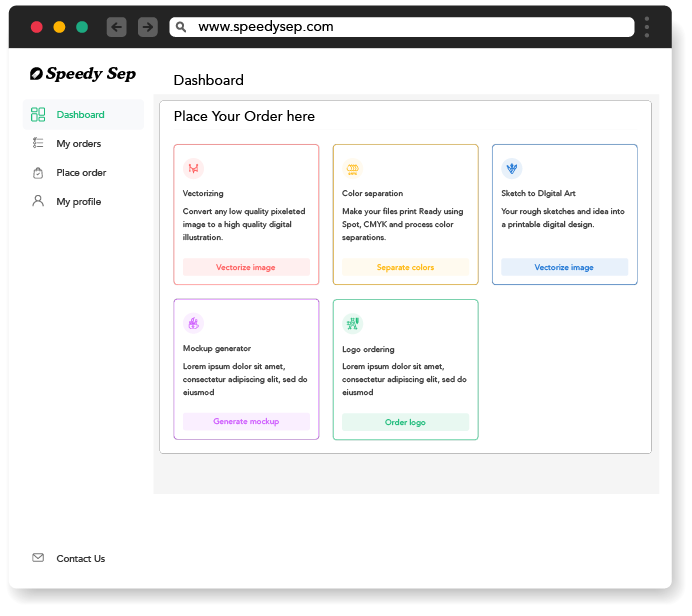 Hey, have you tried Speedy Sep ?
Speedy Sep helps screen printers and apparel brands with unique t-shirt designs; provide print-ready color separations; and convert your artwork to vector format … all in record time.
Try if free for 7 days
and automate your print shop.
Never miss another
deadline
Create unique t-shirt designs, get your color separations and convert your artwork to vector format.
"Before outsourcing my art department I had no idea how much money I could save. Now, it all goes in my pocket."