Ordering (and Receiving) the Perfect Logo Design for Screen Printing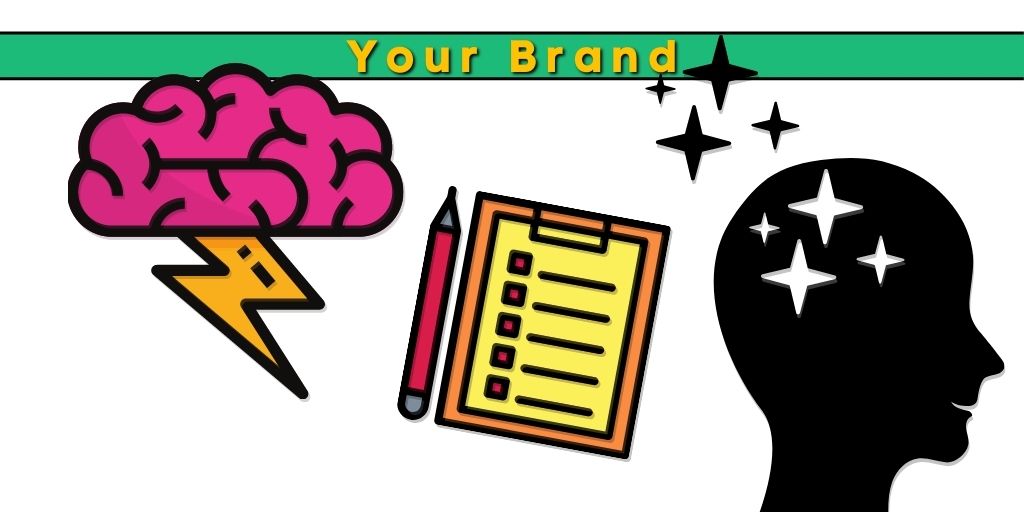 6 Things Your Graphic Designer Needs to Know
Before a graphic designer can create an image that is just what you want, you need to know just what you want.
You will save yourself a lot of time, money, and stress if you have it all straight in your head – and documented – before you place your order. Think of this article as a "You Will Need" list and remember: The more information you share, the happier you will be with the results!
Before you get started, collect existing content and images you have for your business. Then ignore those files and start with a blank canvas.
Read about design elements and let your mind wander away from preconceived notions like specific colors and fonts, and take a fresh look at your brand and how you want to present it to the world. You can always come back to your previous content and images later.
#1 Describe Your Company
Put together a full profile of your business. It should not take long, but it may give you some fresh insights into the company's overall message.
Mission Statement, Goals, & Objectives
Write down your first thoughts about what you want to accomplish through the business. This is not a formal process, like writing a business plan to get a bank loan. This is just for you and your designer, so write from the heart!
B2B or B2C?
There is a difference in the way you target B2B (business-to-business) clients and B2C (business-to-consumer) customers. If most of your work is B2B, your target audience is probably interested in speed, reliability, and price.
If you mostly cater directly to consumers, you will likely want to push price, durability, and ease of setup. If your company targets both markets, strike a balance between the two.

Target Audience Demographics
Understand the people who are most like to make the up-or-down decision about your products and services. Are they heads of IT departments, housewives, hotel owners, or?
Paint a picture of the average decision-maker, including:
Age
Gender
Role as a consumer
Industry
Job title
List Your Products and Services by Category
Put the most important categories at the top of the list. They may be important because they make you the most revenue, or because you want to grow your business around one or two areas of focus.
If any of your projects and services are highly specialized to a particular industry – like widgets for jet skis – add descriptions to help clarify your designer's understanding of your business. If you work in one, broad sector – like babies and toddlers – be specific about the kinds of things you do (e.g. clothing, furniture, toys, and maternity products).
How do Your Competitors Describe Their Businesses?
Save the links to any competitors who have done a good job of presenting a company that is similar to yours. This will help your designer to quickly understand your business.
#2 Describe Your Brand's Personality
Are you marketing your company or yourself? If you are the brand, your personality should shine through your branding tools.
If you have a zany personality but your target market expects a conservative presentation (like funeral directors), your brand's personality should satisfy these expectations. The branding for most small businesses is a balance between the two personalities.

Write a tagline – the zinger that comes after your company name. You may not want to use it in your logo, but it is valuable to put it into words and share it with your designer.
Do an online search for "logo design" and you will get results for famous brands like Pepsi, Hewlett-Packard, Amazon, and Valvoline, and millions of other companies. Browse through them and make a list of the ones you like.
As you add each image to the list, save it in jpg or png format to share with your designer.
Here are some of the elements in a typical logo. What do you like about each of the logos that appeal to you?
Colors
Fonts
Shape
Energy
Femininity, masculinity, or non-gender-specific
Style – rustic, polished, abstract, gentle, powerful, relaxing
Hidden meanings and negative space
You should also look at an online ordering site like SpeedySep.com for examples of various kinds of logos.
#3 Color Psychology vs. Personal Taste
Your favorite color might be great for your logo, or it might completely suck. Color psychology says that red conveys excitement, and energy, while blue evokes feelings of trust and competence. If your healthcare company markets to people over the age of 50 and your favorite color is red, skip the red and choose a nice blue.
If your company doesn't fit a clear stereotype, start with your favorite color. Be sure to specify the kind of color you want to use. You don't have to have a hex# for it (although that would be helpful) but if you like blue that leans more to the blue-green side and you hate royal blue that leans toward purple, be sure to include this in your instructions.
It's fine if you only choose one color because your designer will use their expertise to find appropriate complementary colors and shades.

#4 Get Your Ideas Into Shape
Traditional logos tend to be round, square, rectangular, or triangular. Then there are the super-creative logos that are off-center without a particular shape or set of lines.
You may have a specific shape in mind, like round, or you may be inspired by your research on name-brand logos. If you don't have a strong preference, let your designer surprise you!
#5 List What you DO NOT Want or CANNOT Have
Just as important as the other information you share with your designer is a list of the things they should not include. If you want a design based on your former partner's logo, be clear about aspects of your ex-partner's branding that you are not legally entitled to use.
NOTE: By uploading written content and images for your designer to use, you have the responsibility to be sure you have permission to use them. If a problem results from using intellectual property without permission, it's on you – not the graphic designer.
Beyond legal issues, be sure to tell your designer your personal preferences. This may include a hatred of oval logos or a desire to use subtle – rather than heavy – fonts.
#6 Place Your Logo Order Online
If you have followed the first five steps in this guide, you will likely have a ton of lists, images, and ideas for your logo. The best way to share with your designer is to put it all together in a document or spreadsheet.
Weed out the clutter and give your designer the important information, and be sure to copy/paste the sample logos you collected in the document. If this is not possible, you should consider renaming the files you will upload so it is easy for them to find everything.
Online ordering apps like you find at SpeedySep.com ask for your company name and tagline. Read detailed information about ordering from SpeedySep here.
Uploading files is optional but you should definitely do it. If the designer must begin the project by guessing what you want, it may slow down the process.

Good online ordering platforms also have space for you to give the designer specifics about your target market, and anything else that would help them understand your brand. If there is anything that is not included in the files you are uploading, add it here.

That's it! A great design company should have your new logo to you in 2-3 days unless you upgrade to rush processing.
A Final Word
The best way to get a great logo, and any other designs you need, is to carefully select a design company and use them for all your graphic images. When you select a design house, be sure they have a stable design team and not a mishmash of untested freelancers.
Are you ready? Start a logo order so you can see examples of different types of logos. Then follow the 6 steps above and complete your order!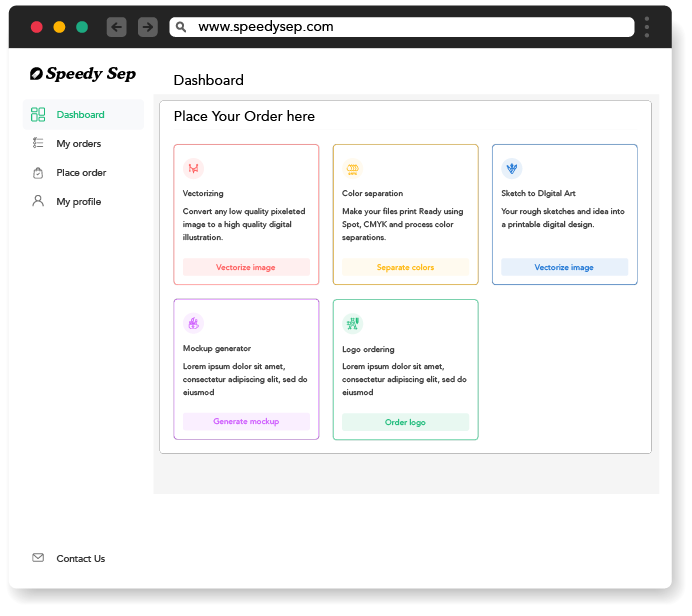 Hey, have you tried Speedy Sep ?
Speedy Sep helps screen printers and apparel brands with unique t-shirt designs; provide print-ready color separations; and convert your artwork to vector format … all in record time.
Try if free for 7 days
and automate your print shop.
Never miss another
deadline
Create unique t-shirt designs, get your color separations and convert your artwork to vector format.
"Before outsourcing my art department I had no idea how much money I could save. Now, it all goes in my pocket."