How Outsourcing Is The Ultimate Solution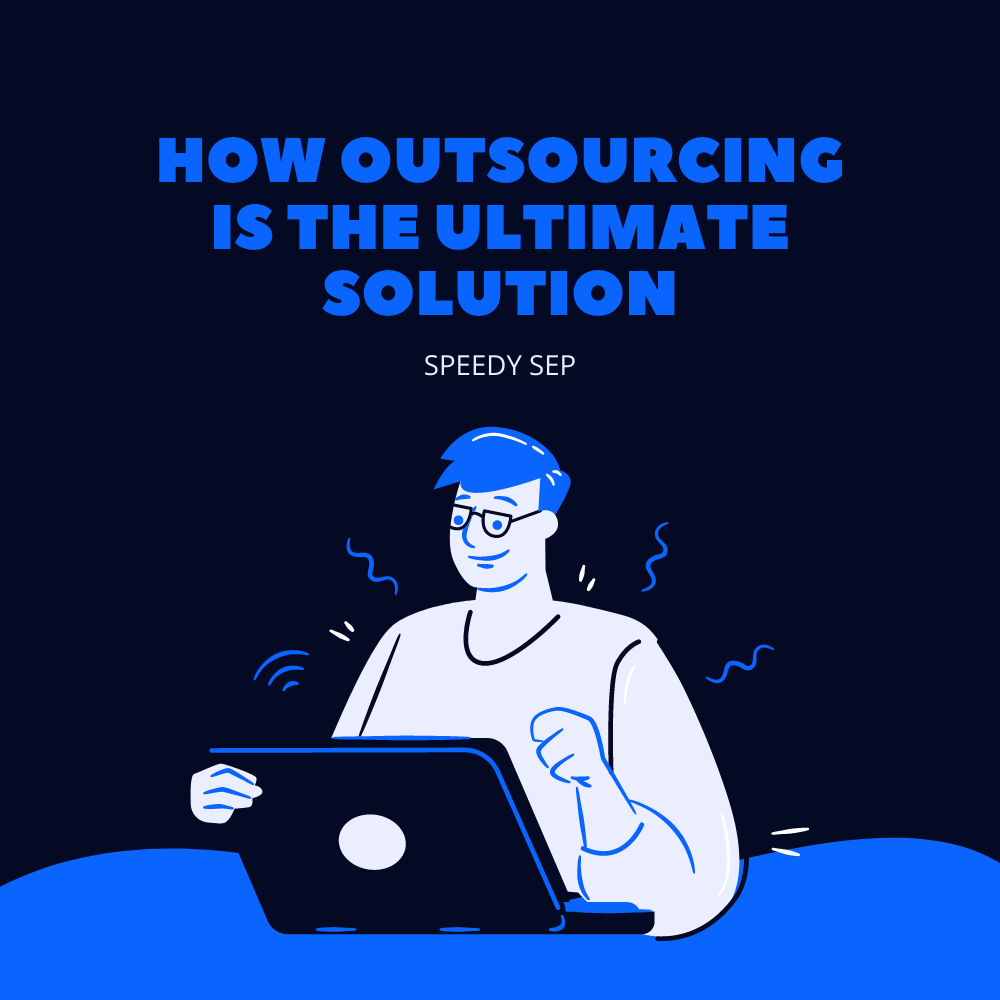 Outsourcing is the latest buzzword these days, as more and more cost and quality-conscious businesses all over the world are turning to hire virtual teams to handle their processes for them including working on your designs for your store. So, what exactly is outsourcing, and what are the benefits of having a virtual graphics designer do your work for you? Let's find out!
Advantages Of Outsourcing
Knowing the benefits of outsourcing will help you decide if this is something that could work for your business. Here are three reasons to give this a try:
Less Employees For You To Handle:
When you outsource, you can pay your help as a contractor. This allows you to avoid bringing an employee into the company, which saves you money on everything from benefits to training.
Lower Labor Cost:
Every company has its own reason for doing this, with many chasing lower labor costs. You don't want to trade quality for the price, but outsourcing often allows you to get the best of both worlds.
Faster & Better Services:
When working with outsourced designers, you will get the job done quicker and they will provide you with the utmost impressive services to keep your satisfaction level maintained and deliver quality designs.
And the list goes on to also include time zone differences, different designers for your work who would understand your needs better, and urgent deliveries of your designs while you focus on other major tasks of your business.
Now, since we have established what outsourcing is and how it benefits you, let's have a look at how outsourcing your designing needs would be of your absolute advantage!
Welcome to Speedy Sep!
The Flash may be the fastest man alive but, our services are the smartest! Just to let you know, Speedy Sep has been around for quite a while now and in our time so far, we have fulfilled over 10,000+ orders and around 15,000+ color separations. We now stand tall with thousands of happy customers getting their everyday designing needs done through Speedy Sep.
We're reducing the space or a need for an entire in-house designing team and allowing you to pay as you go so you can pay whenever you need something done as compared to the mandatory monthly payments to in-house employees.
How Does It Work?
The process can be as simple as ABC. Simply signup, upload your concept or provide us clear instructions, and choose a package. Your file will be ready to download in 24-48 hours. With multiple mockups available for your satisfaction, there is no way that you would be unhappy. Our designers really make sure that you fully approve before finalizing it for you.
Our team consists of in-house designers who've completed thousands of artworks for screen printers around the country. We are experienced, motivated, and excited to help you.
What Is The Turnaround Time?
Our turn-around time depends on the project and the number of revisions. Usually, it's between 24 – 48 hours for most projects. You can always pay for rush turnaround when placing an order, and you will get your order delivered within 12 to 6 hours.
Great thing about outsourcing is that we work Monday to Friday so you can submit a design project any time anywhere. (and from any device of your choosing) If you have an urgent project, you can always pick a quicker delivery option and our team will have the design ready for you in no time!
What Exactly Am I Saving With This?
Outsourcing can help to make your business more flexible and agile, able to adapt to changing market conditions and challenges while providing cost savings and service level improvements. As mentioned previously in our article, Speedy Sep enables you to pay as you go for each order you place for any design of your choice but, what we also offer is something very incredible.
So, instead of paying for each order every time, we have carefully designed membership plans for you which renew monthly and cover multiple orders across the board for you.
Here is a rough breakdown:
1. Bronze package – 2 orders and 2 mockups per month
2. Silver package – 5 orders and 6 mockups per month
3. Gold package – 8 orders and 14 mockups per month
You can always find more details by clicking the link here. Since you're so excited about this, we're going to keep that momentum going by offering you your first order FOR FREE!
If you're happy with your first order, we have more goodies for you, your first membership subscription is now available with a flat 50% OFF! Just use the code John50 and we're on!
I presume you would have some questions by now, do you? If yes, great! Feel free to contact me, I am always available for your assistance.
Have an awesome day ahead!
John Reed
Speedy Sep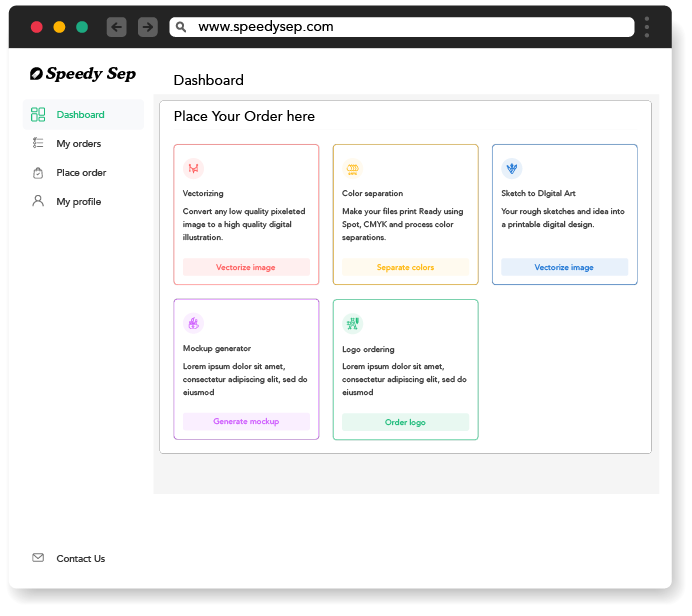 Hey, have you tried Speedy Sep ?
Speedy Sep helps screen printers and apparel brands with unique t-shirt designs; provide print-ready color separations; and convert your artwork to vector format … all in record time.
Try if free for 7 days
and automate your print shop.
Never miss another
deadline
Create unique t-shirt designs, get your color separations and convert your artwork to vector format.
"Before outsourcing my art department I had no idea how much money I could save. Now, it all goes in my pocket."