5 Ways to Save Money on Graphic Design for Screen Printing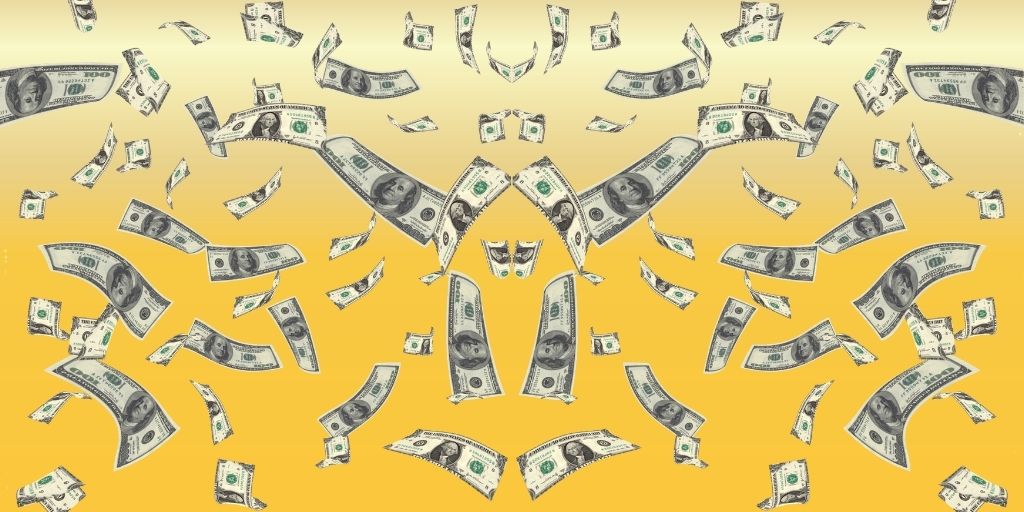 Are You a T-Shirt Printer? Here's How We Save You Money.
Face it – you live to print. Apparel printing is your passion and your livelihood. SpeedySep is here to make you more productive and more profitable by taking care of the design work.
#1: Outsource Your Graphic Design Work to Save Money
Managing graphic design for screen printing can suck, and so can relying on freelancers. It is expensive to employ dedicated designers, and it is an inefficient use of your time to do the work yourself or pull employees from more important duties. Freelancers can miss deadlines, misunderstand the design requirements, and generally leave your customers disappointed.
High-quality designs that your customers love are critical to the success of your printing. If you or your employees do the design work – or you hire a hodgepodge of freelancers as you need them – you can do better.

By hiring a quality design house to do all of the image re-creation, color separation, and specialty logo work, you can control the quality while freeing up your team to pitch, quote, print, and deliver the things that bring in money. On average, you can save up to $47,000 every year by using a firm like SpeedySep rather than directly hiring a designer.
In case you missed it, read our post, Save Money by Outsourcing Your Design Department, for details and calculations.
#2: Become a Member, Get a Discount on Your Orders
Some print shops pay for our services on a per-order basis, but we incentivize you to send all of your work to us by offering tasty discounts if you sign up for a monthly membership plan. Our plans are pre-packaged with the number of each service typical print shops need, but they can be customized as described in the section, Customize Your Monthly Discount Package, below.

These discount membership plans can save you from $100 to almost $300 per year, compared to our per-order (a la carte) price. Some plans include the rollover of unused services to the next month, and all plans include a dedicated designer, 24-hour delivery, mockup generator, unlimited revisions, and source files.
The 7-day free trial means just that – if you cancel within seven days, you get a full refund of the monthly package price.
Here is a summary of the four plans we offer. For more details, visit our pricing page.
Bronze – $99/month
Popular with Print Shops
Vectorizing
Color separation
Sketch-to-digital
Silver – $169/month
Perfect for Apparel Brands
Business logo orders
Vectorizing
Sketch-to-digital

Gold – $249/month
Loved by Both Screen Printers and Apparel Brands, this Plan Includes the Works
Business logo orders
Vectorizing
Color separation
Sketch-to-digital
Rollover
Platinum – Pricing Depends on Volume
Customized for High-Volume Print Shops
Although our online ordering system allows you to track your designs and communicate with us in real-time, platinum customers bypass our system and access our services through their system. They give SpeedySep access to their CRM (Customer Relations Management) system, and we work on their designs as though we are part of their company.
Platinum members can use their CRM to do everything our online system provides, so they have all of the information about each design, integrated into their databases. For shops that print a lot of merch, this is not only a convenience, but it saves time and increases their control over the process.
The platinum plan is built on flexibility and member control. Get a quote for platinum membership now!
#3: Get Repeat Business & Referrals by Delivering On Time
If you hire a graphic designer, their availability is limited to working hours. More importantly, if they get overwhelmed with design work, they cannot expand their capacity. Compare that to partnering with a professional graphic design company like SpeedySep.
We have a large, stable department of graphic artists which means you can work with the same designer over and over. If the work becomes too much for one person – or if your designer is unavailable due to illness or scheduled time off – we will simply assign another designer to you for as long as you need them.
This is what flexibility and growth management are all about, and it is far better than hiring a second designer or calling your customer to explain the delay. We meet your deadlines so you can meet your clients' deadlines.

#4: Customize Your Monthly Discount Package to Save More Money
If you are currently a member with a standard package that is not quite right – or if you have not become a member because the standard plans don't fit your needs – it's time for a custom membership package. You will probably save even more money than with a standard plan.
Let us know how many of each service you expect to order each month, and be sure to include any upgrades that should apply to all of your orders such as shorter turnaround time or video mockups. We will give you a custom plan that saves you money because it only includes the services you need.
Read the full article about custom monthly plans, or request a quote.

#5: Get Your First Order Free
We're so sure you'll become a regular customer that we don't charge – or even require a credit card – for your first design. No matter what your future plans may be, don't pass up this offer for free stuff.
Enjoy unlimited revisions until your design is perfect. That is just part of the service!

Try Us Today

– Become a Member!
There is nothing to lose – you can cancel within seven days and receive a 100% refund,

guaranteed

.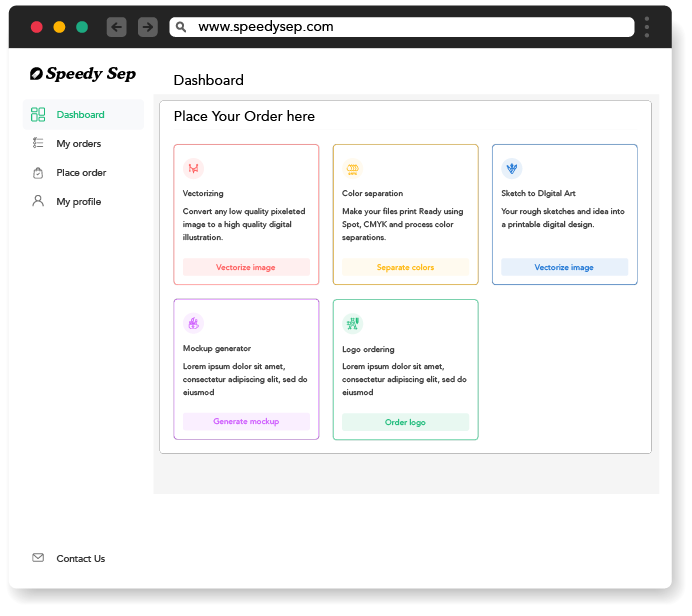 Hey, have you tried Speedy Sep ?
Speedy Sep helps screen printers and apparel brands with unique t-shirt designs; provide print-ready color separations; and convert your artwork to vector format … all in record time.
Try if free for 7 days
and automate your print shop.
Never miss another
deadline
Create unique t-shirt designs, get your color separations and convert your artwork to vector format.
"Before outsourcing my art department I had no idea how much money I could save. Now, it all goes in my pocket."